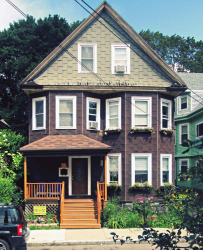 "Ding-dong"
The sound of the ringing doorbell is the essence of The Boston Project's commitment to be an integral part of our community. Our mission is anchored in our Neighborhood Ministry House, a thriving place for neighbors, staff, and volunteers. And the doorbell rings countless times a day.
When we swing open the door, we may see kids coming for Homework Center or a neighbor who has an emergency situation that needs help. We may be welcoming in adults and city officials to a neighborhood meeting, or teenagers looking for job applications.
A Hub of Community
Neighborhood Ministry House
This two-family house is a thriving place for our community, and is the central hub for the variety of ministries that happen with The Boston Project, including community meetings and Bible studies, programs for children and youth, office space, staff housing, and more!
Neighbors utilize these safe havens as gathering places, resource centers, and centralized locations for volunteer engagement and community organizing. We work alongside neighbors to create a healthy place where people want to live and families can thrive.