The Talbot-Norfolk Triangle
Welcome to Our Neighborhood!
Boston is a city of neighborhoods. These include Downtown, Jamaica Plain, Charlestown, Roxbury, and others. The Boston Project is located in Dorchester, Boston's largest and most diverse neighborhood in both area and population, with over 100,000 residents. Dorchester alone contains as many as 36 sub-neighborhoods whose differences may not be detected by a casual passerby, but are very obvious to residents.
The Boston Project is unique in that we are geographically targeted. We are rooted in a small neighborhood called the "Talbot-Norfolk Triangle," or "TNT." The Talbot-Norfolk Triangle includes the 13 streets that are bordered by Norfolk Street, Talbot Avenue, and the Commuter Rail, plus Peacevale Road and Whitman Street.
Talbot-Norfolk Triangle
A Snapshot of our Neighborhood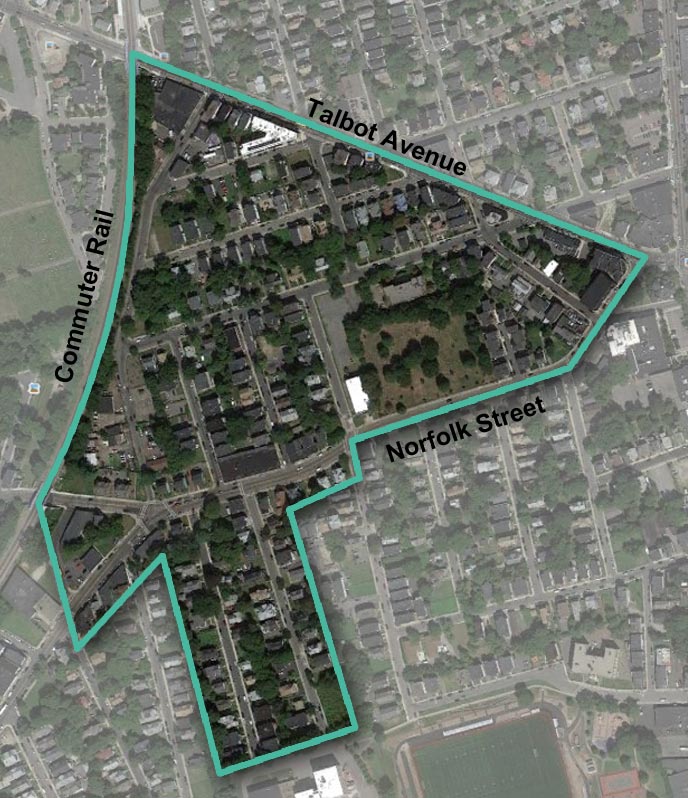 The Boston Project helps facilitate our community group, called TNT Neighbors United. Together, neighbors are working towards a community that is greener, healthier, safer, and financially stable.
Physical Description
The Talbot-Norfolk Triangle covers about 1.5 square miles, and consists of 13 short streets. We have a variety of two- and three-family homes, small apartment buildings, and mixed use commercial development.
Read about our community development efforts.
Residents
About 1,500 people live in TNT, representing 525 families. Over 400 (or about one-third) are children and youth under the age of 18.
About 80% of residents are renters, and 20% are homeowners. Culturally, 78% identify as African-American, 8% other race, 5% White, 5% are two or more races, 2% American Indian, and 2% Asian (20% of residents report being of Hispanic/Latino ethnicity).
Read more about our work with youth and families.
Business & Economics
There are 30 small businesses that are located in TNT. About 30% of residents live under the poverty line ($23,850 for a family of four). The unemployment rate for young men of color is near 50%.
Read more about our economic development efforts.
Green Spaces
Our neighborhood has one of the highest density of children in Boston, and one of the lowest concentrations of green and open space. The Boston Project has completed four green space revitalization projects, and is in partnership around several more.